Uswetakeiyawa and Wattala
Overview
Uswetakeiyawa and Wattala
Uswetakeiyawa and Wattala areas are located north from the Colombo City Centre. The area is quite heavily populated with many Catholics living there.
Uswetakeiyawa Beach is one of the best beach areas north of Colombo with many hotels, cafes and restaurants also located there. The sandy beach is much less crowded than those located south of Colombo and is also an excellent location from which to enjoy the sunset.
Pegasus Reef Hotel is the only star-class property in the area while hotels such as Palm Village and Beach Bungalow are also popular hotels in Uswetakeiyawa. Visitors staying in the area can also enjoy boat rides on the famous Hamilton Canal and enjoy the sights and sounds of the Muthurajawela Marshland.
More Info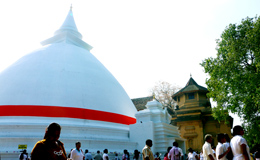 Situated 10km away from the heart of Colombo is the Kelaniya Rajamaha Viharaya. The ancient chronicle 'Mahavamsa' states that on the eighth year following enlightenment; the Buddha visited Kelaniya with 500 Bikkhus (Monks) on the invitation of King Maniakkhikha to preach the dhamma.
More..