About Colombo
Overview
For a long time, Colombo was just an uninteresting, unavoidable and sometimes dangerous, transit to the island's more sought-after tourist destinations elsewhere. In recent years however, Colombo has refashioned itself as a popular tourist hotspot offering many cultural, historical and nightlife attractions.
Located on the west coast, Colombo is the most densely populated city on the island, home to some two million people. Historically, Colombo was a famous seaport. The city is built on a natural harbor, strategically located along the ancient East-West sea trade routes. Colombo's history as an important port can be traced back some 2,000 years, known to Indian, Greek, Persian, Chinese and Roman traders. (Still the Colombo Harbor is one of the busiest ports in South Asia.) The Portuguese first landed in Colombo in 1505, and since then the city has been a center of East-West cultural influences. In 1815, the British colonial authorities made Colombo Sri Lanka's capital. Since then, Sri Lanka's administrative capital has moved to Sri Jayewardenepura Kotte, a nearby suburb, but Colombo remains the commercial and financial capital of the country.
Beira Lake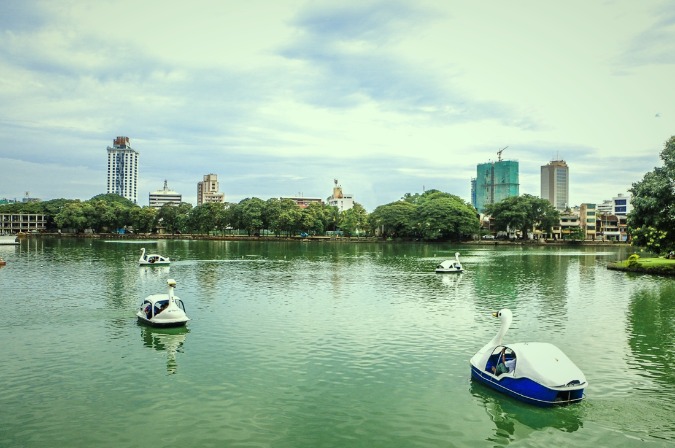 Different areas of Colombo are numbered from 1 to 15 along with nine designated suburbs. The historical Colombo Fort is the heart of the city, where many important landmarks—the official residence of the President of Sri Lanka, the 40-story twin tower complex of the World Trade center, neo-Baroque styled Old Parliament building, Old Colombo Lighthouse among many others—are located. A good majority of Sri Lanka's important corporations have their head offices in Colombo, including John Keells, Ceylinco, Hemas and Akbar Brothers. Other landmarks of Colombo include the Galle Face Green, a scenic promenade situated alongside the busiest highway in Sri Lanka, the Independence Memorial Hall, Town Hall, Nelum Pokuna Theatre and Viharamahadevi Park among many others. Some of Sri Lanka's most famous, and fanciest, hotels are situated in Colombo, such as the Colombo Hilton, Galadari, the Kingsbury (formerly Ceylon Intercontinental) and the Galle Face Hotel, which has accommodated many celebrity guests from Mahatma Gandhi to Scarlett Johannsson.
Colombo Town Hall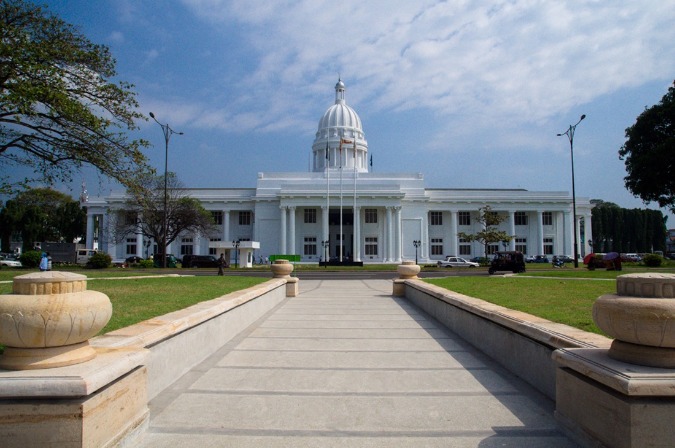 Due to its historicity, Colombo is incredibly culturally, religiously and ethnically diverse. It's not uncommon to see Buddhist temples, Hindu kovils, churches and mosques situated only few meters from each other around here. Religious sites tend to be some of the most visited places in Colombo. The Gangarama Buddhist Temple and the New Kathiresan Kovil attract throngs of local and foreign tourists every day. The Jami Ul-Alfar Mosque is famous as a landmark of Colombo, some even claiming that the mosque was what sailors recognized first as colonial ships approached Colombo. Some of the oldest churches of Sri Lanka are situated in Colombo; of these St. Paul's Church in Milagiriya is the most well-known. Members of almost all ethnic groups of Sri Lanka—including Sinhalese, Tamils, Ceylon Moors, Burghers— manage to live side-by-side in Colombo in varying degrees of harmony.
Other than showcasing memorable colonial architecture, perhaps the most famous function of Colombo, for both locals and foreigners, is shopping. The city is littered with malls, boutique shops, department stores and roadside stalls selling everything from fake iPhones to authentic Ceylon sapphires. The food in Colombo is almost a tourist attraction in itself. Visitors can find all types of Sri Lankan cuisine here, such as authentic Sinhala and Jaffna dishes or the famous fusion dish, kottu. Restaurants and eateries offering international dishes—Chinese, Japanese, German, Italian, just to name a few—too, are a plenty. Colombo is also famous for its nightlife, possibly the most liberal on the entire island, with world-class night clubs, casinos, watering holes and even classy, late-night theatres.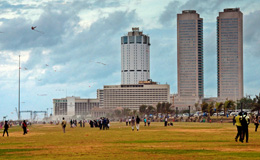 Sri Lanka, being an island, is known for her amazing beaches and views of the sea. However, in Colombo, it isn't always easy to find a place where you can enjoy the crashing of the waves and most of all, an undisturbed view of the sunset. Galle Face Green thus attracts a large number of people, especially during the evening, although it is rarely empty, even in the afternoon when there is very little shelter from the scorching sun.
More..