Coco Veranda
Overview
Coco Veranda is a chic coffee shop that many people frequent especially for their range of coffee based beverages. Compared to other coffee shops Coco Veranda does coffee in a classy and good quality fashion and their menu for snacks and meals is also quite extensive compared to other coffee shops.
There are two outlets of Coco Veranda; one at Ward Place Colombo 7 and the other is in the Crescat Boulevard in Colpetty. The ambience at Coco Veranda is pleasant and relaxing. The comfy leather chairs and the modern interior emanate a chic vibe and explain why it has become such a popular hangout spot.
Coco Veranda has a variety of snacks ranging from sandwiches to gourmet burgers to hot dogs. They also have Italian classics like penne marinara, lasagne and spaghetti carbonara. The menu is also comprised of rice options with various accompaniments like spicy chicken, oster chicken and ginger chicken.
Coco Veranda
We ordered the special Coco Veranda rice which was served with ginger chicken. The rice was yummy and not that oily. It was also pleasing to the eye as they had prepared and presented it in a colourful manner adding bright coloured bell pepper and coriander leaves. The sauce that the chicken was cooked in was flavourful but the chicken itself was very bland because it seemed as if the only ginger flavoured thing on the chicken were the shredded pieces of ginger. However it was a filling meal and the portion was more than enough for one person.
We tried the chocolate frappe. It is an ideal choice if you happen to be around Coco Veranda on a hot afternoon. The chilled chocolaty beverage was not too frothy which made it all the more likeable.
Their desert options are also quite extensive as they have several flavours of baked cheese cakes, brownies, apple pies, cookies and chocolate cake. Their famous death by chocolate was heavenly. Four layers of soft gooey chocolate decadently squeezed inside the soft chocolate cake is a treat that is out of this world. One piece of the death by chocolate can be enjoyed easily by two people because it's very rich and filling.
The cheese cakes are also popular among those who come to Coco Veranda. The cheesecake is not too creamy and not too dry and it would have excellent if the crust was a little bit more dry rather than it been soft. But the passion fruit cheesecake was yummy as tangy taste of passion combined with the creamy cheesecake was a delightful treat.
More Info
Venue Details & Map
Coco Veranda
32 Ward Place, Cinnamon Gardens, Colombo 07
Email: [email protected]
www.cocoveranda.com
Tel: +94 11 7 635635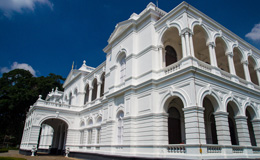 The National Museum of Colombo first opened in 1877 with only 800 exhibits showcasing some aspects of the history and culture of Sri Lanka. Today, it has over 100,000 exhibits and the most important library on the island.
More..