Light House Galley Colombo
Overview
You will find the Light House Galley opposite to the Light House in Colombo and the port seen a few miles away. This is a court yard restaurant managed by the Sri Lanka Navy. What attracts this restaurant is the inconspicuous charm surrounding it. The restaurant is in the middle of the busy city architecture at the heart of Colombo. Light House Galley is well known good food and disciplined service.
The café looks more like a street restaurant because one can relax, read or engage in other office activity in the court yard by the veranda or sip a drink under an umbrella whilst enjoying the simplicity of nature and the passersby along with the sea breeze. On the other side is Galle Face or the Indian Ocean that lies. Chaithya Road is the access road to Light House Galley. The road is traffic free in both daylight and night. If you drive further passing the Light House Galley, you will see the Colombo Port. It looks pretty in the night, especially with bulbs that brighten up in different colors. For those who love photography this would be a hot spot!
The unique aspect of the restaurant is the Forecastle, a fine dining area in the upper deck which is also the roof top restaurant where guests can enjoy a beautiful view of the Indian Ocean, the light house, the white temple and the port while filling their tummies with yummies .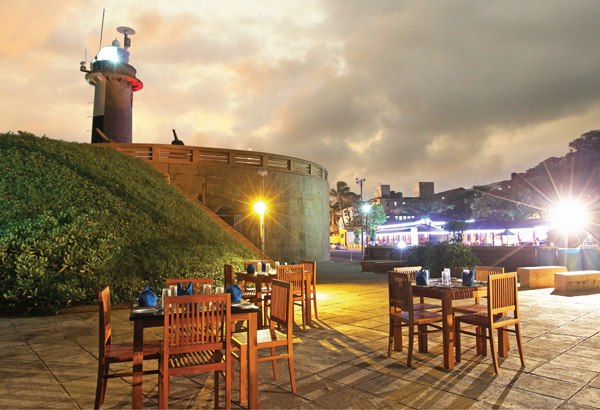 In the night you will have a clear view of the sky too, with stars spread across neatly in patterns. Fridays and Saturdays see the Light House Galley coming alive with music – provided either by the Navy calypso band, jazz band, and Solo performances by various artistes or by the beat group of the Navy. Furthermore, the Galley also provides an ideal location for various events and functions as the fine dining and family dining area can accommodate up to 50 and 25 guests respectively.
The service is fast and the working staff is very friendly. Their dishes would cost from Rs 500 to Rs 1000. They will assist in an instant whenever you need anything.
The space is open and warm - better to go after 4 so the heat doesn't get you. Note that to sit inside you need to be wearing shoes.
Light House Galley
Chaithya Road,
Colombo 00100
Tel: +94 11 2 212896
Facilities
Dinning Room
Bar
Toilets
No Smoking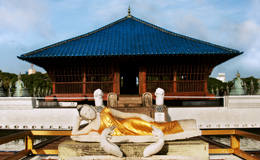 The Gangaramaya Temple is one of the most popular and iconic temples located in Colombo. Mixing modern architecture with a touch of culture, the Gangaramaya temple's architecture features a heterogeneous mix of Sri Lankan, Thai, Indian, and Chinese architecture.
More..