Taxis
Overview
In Sri Lanka, taxis can refer to two things: cabs, or car taxis, and tuk tuk taxis, also referred to as three-wheelers, trishaws or motorized rickshaws. Either way, a Sri Lankan taxi functions as a taxi would anywhere else in the world. Taxis are the most comfortable and flexible method of traveling in Sri Lanka and is one of the best ways to avoid the hassle of public transport.
Cab companies are a plenty is Colombo and simultaneously offer cars or tuk tuks as taxis. For larger crowds, there are options to rent vans or SUVs. Cab drivers don't mind waiting and are keen at navigating the complicated road network. Cabs are not the cheapest mode of transport, but are much more reliable and safe. Prices vary depending on the type of the vehicle and sometimes the number of people traveling. Most cabs are equipped with fare meters, which are more preferable and will not cause any unpleasant pricing disputes.
Cabs are good for getting from point A to B, but longer rides to destinations outside Colombo can also be arranged in advance. Some cars and drivers are available for hire that are also qualified as "chauffeur-guides." Trained and equipped with a license from Sri Lanka Tourism Board, these drivers will also act as tourist guides. If you are hiring a chauffeur-guide, make sure the person is accredited.
Tuk tuks are the most popular form of taxi among locals. Tuk tuks can be arranged in advance or waved down on the street. In the past, tuk tuk drivers were notorious for demanding outlandish fares from tourists. Nowadays, majority of tuk tuks are equipped with fare meters and are called "Metre taxis." If the tuk tuk doesn't have a fare meter, it's highly recommended to negotiate the price before departing. Tuk tuk drivers are particularly adept at taking "short cuts" in Colombo to avoid traffic and arrive at destinations faster. Though not as comfortable, or covered, as car taxis, tuk tuks offer quite the exciting ride for tourists. They are also good for roadside sightseeing.
Most Colombo taxi companies advertise online. Taxis can also be contacted via hotels or tour providers.
More Info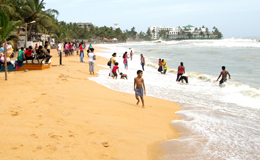 Mount Lavinia is also known among the locals as 'Galkissa' which means rocky area and legend has it that a treasure trove from a ship wreck is hidden beneath the rocks the beach.
More..