Colombo International Airport (Bandaranaike International Airport)
Overview
The Bandaranaike International Airport (BIA) is the primary airport servicing Sri Lanka. Located approximately 32 km from the Colombo city centre, it serves as the hub for Sri Lankan Airlines, the national carrier of Sri Lanka. BIA connects passengers of over 50 destinations with over 30 International carriers and budget airlines operating flights to and from Colombo. The Airport has three passenger terminals. While Terminal 1 and 2 serves international flights, the new Terminal 3 handles all domestic flights.
Transportation
The Airport provides a taxi service operated by Airport and Aviation Services Ltd. Visitors can hire a taxi by visiting the taxi counter located at the arrival lobby. Private taxi services also operate from BIA but are subject to availability.
For visitors who opt for public transport, a shuttle bus operates every 15 minutes from the terminal to the main bus station located about 500m away. Here passengers can board intercity buses (Route no. 187 E-03) departing every 30 minutes to Colombo through the Colombo-Katunayake highway with an approximate travel time of 30 minutes.
Passengers intending to depart can board intercity buses servicing BIA from the central bus terminal in Colombo located on Bastian Street. However passengers can also hire a taxi from a number of taxi services operating within the city. Estimated travel time from Colombo in a taxi is approximately 20 minutes.
Airport Services
A modern airport, BIA offers its visitors a number of services such as Post Office, Communication, Special services for passengers with reduced mobility, Child Care, Medical Centre, Duty Free Shopping.
These services are available both at the arrival and departure terminals. Passengers with Sri Lankan passports and foreign resident visa holders are entitled to the duty-free allowance on arrival. Foreigners are allowed to purchase liquor and cigarettes duty-free.
Additionally visitors can make use of the four lounges located within the airport. A concierge service is available at the Silk Route Lounge which handles all formalities before embarkation or after disembarkation and is available to those with a prior booking. The Araliya Lounge is reserved for business class passengers while the Lotus Lounge is reserved for first class passengers of other Airlines operating to BIA. Other passengers can make use of the executive lounge at a charge of USD 15 for a maximum of 3 hours.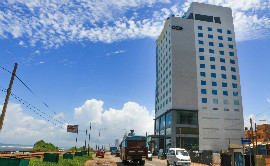 With sky rocketing prices of room rates of hotels in Colombo, many seem to opt for budget hotels or hostels. Though they don't provide you with the facilities of star class hotels, the accommodation is comfortable and more importantly it is affordable.
More..