Budget Accommodation in Colombo
Overview
With sky rocketing prices of room rates of hotels in Colombo, many seem to opt for budget hotels or hostels. Though they don't provide you with the facilities of star class hotels, the accommodation is comfortable and more importantly it is affordable. So if you are backpacker or simply looking for budget accommodation in Colombo this list will be helpful as these places seem to be popular among many travellers.
Renuka City Hotel
Located on Galle Road Colombo 3, this hotel is a popular choice if you are staying for business purposes. The food is lovely and there is roof top pool overlooking the sea giving you a splendid view. The rooms are clean and well kept and they offer you an intercontinental breakfast. There is a bank just opposite the hotel and transportation is easily accessible given the location of the hotel. This is a fine choice that gives you the value for your money.
OZO Colombo
This too is a cheaper option and it is located in Colombo 4. The food is commendable and there is a lovely rooftop area as well. The rooms are considerably spacious and well kept with modern amenities.
Rosmead Colombo
This is a former residence turned into a budget hotel. Located in Colombo 07 which is an area with shopping malls and restaurants, the budget hotel offers you nice and comfortable rooms with clean bathrooms. Tuk tuks are easy to find in this area and there is no trouble finding your way around in this area given the prime location of this hotel.
Rockwell Colombo
Excellent value for money and the breakfast that is served deserves much praise. Breakfast is served in a lovely courtyard by a courteous staff. This budget hotel is designed with a modern touch with spacious rooms and clean bathrooms. It is located in Colombo 8 off Ward Place.
Drift BnB
This is a modern hostel with 14 rooms. This place offers both double rooms and shared dormitories with free wifi facilities. There is also a lounging area for guests with workstations and free tea and coffee. It is situated in Galle Road, Colombo 3. It would only take about 25 minutes to reach the Colombo International Airport from this Hostel.
Backpack Lanka
This is located in Colombo 3 and this establishment offers 20 dorm styled bunk beds. There is a common room with free 4G wifi, a flat screen TV and a home theatre system. Many cafes and restaurants are walking distance from this dormitory.
Colombo City Hostel
It is a stylish concept of a hostel with modern and spacious rooms, a laundry service, free wifi, a fully equipped kitchen with no curfew. There is 24 hour security, a plunge pool and free luggage storage as well. Whether it is a BBQ dinner, a party or a social dinner the hostel can be used for fun filled events and to make new friends.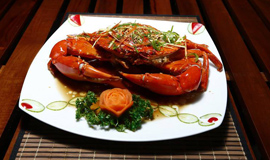 Sri Lankans love their food and Colombo is a great testament to that fact as the city features some fantastic options for the traveller to Wine and Dine.
More..