One Galle Face Mall Colombo
Overview
One Galle Face Mall is one of the most popular shopping malls in Colombo, Sri Lanka. It is located opposite the famous Galle Face Green and adjacent to Shangri-La Colombo. One Galle Face Mall was opened in November 2019. It is a part of One Galle Face mixed development project.
The modern architectural designed building consists of a large retail space, entertainment area, a food court, Children's play area and onsite parking spaces. One Galle Face has become a landmark in the city of Colombo. It is a must visit place if you are going shopping or looking for entertainment in Colombo.
The concierge service run at the mall provides all necessary information to the shoppers. The Concierge desk is open from 10.00 am – 10.00pm daily. As an additional service, they provide Kiddie Carts on loan to the shoppers.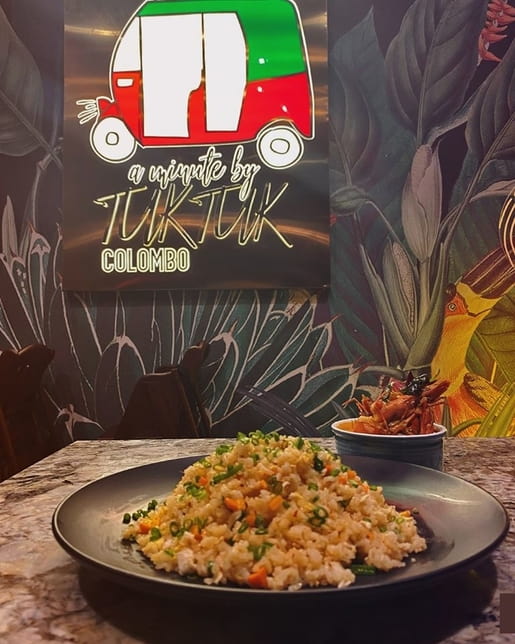 Image Credit - A Minute by Tuk Tuk Colombo
Retail Space
Due to its large retail space, the One Galle Face Mall has over 200 tenants who are selling products and services for modern day living. ODEL, one of Sri Lanka's most loved fashion and lifestyle brands, runs a department store at the mall. At ODEL you can buy a wide range of fashion items including craft products. If you are looking to buy crafts and local souvenirs, LAKARCADE is another option to consider. Their range includes finest teas & spices, carefully selected traditional art & craft items, batiks, jewellery, silverware, and many more craft items.
Entertainment
The mall offers a modern cinema complex as well. If you are a film lover, you must take time to watch a movie in this ultra modern facility. Adventure Zone is a kid's play area with three play zones, four function rooms, an art area and a café. Most importantly, the Adventure Zone Colombo is run by the owning company Shangri-La itself. It is one of the best indoor play areas in Colombo for you to entertain your adventure seeking child.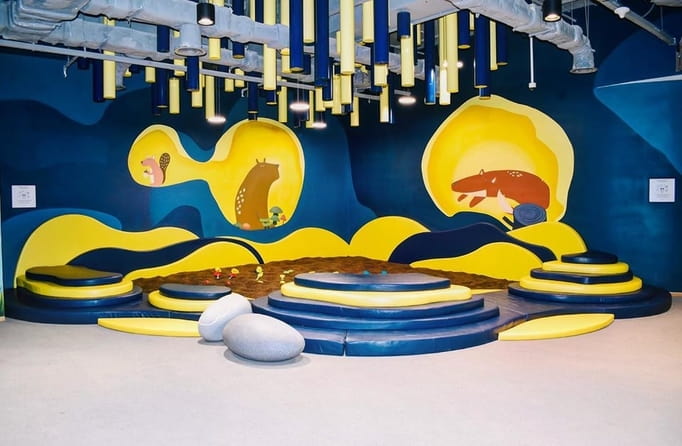 Image credit: Adventure Zone Colombo
Food Court and Other Dining Options
The Food Court offers both local and international cuisine options. There you can enjoy a delicious meal while visiting the mall. One Galle Face Mall Colombo offers an array of alfresco dining restaurants as well. They are located at the rooftop of the mall. Dining there with spectacular views of the Indian Ocean is a good choice for a dinner out.
Getting There
By Bus: Find local bus routes using Google Maps. Nearest bus stop to the One Galle Face Mall is called "Galle Face Bus Stop".
By Train: The nearest train station is Kompannavidiya (Slave Island) station. You could either walk or take a tuk tuk from there.
By Tuk Tuk Or Taxi: You can use tuk tuk or taxi hailing platforms such as Pickme and Uber or just hail a tuk tuk on the street.
By Car/Bike: Please use the Google map location given below for directions. Parking onsite costs Rs.100 per hour for cars and Rs.50 per hour for bikes.
Address:
1A, Centre Road,
Galle Face,
Colombo 02,
Sri Lanka.
Tel: +94 117 869 869
Website: https://onegalleface.com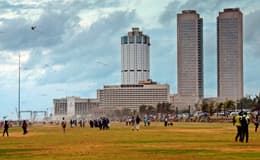 Sri Lanka, being an island, is known for her amazing beaches and views of the sea. However, in Colombo, it isn't always easy to find a place where you can enjoy the crashing of the waves and most of all, an undisturbed view of the sunset. Galle Face Green thus attracts a large number of people, especially during the evening, although it is rarely empty, even in the afternoon when there is very little shelter from the scorching sun.
More..