Seema Malaka Temple
Overview
In the middle of chaotic greater Colombo, on the emerald waters of the Beira Lake, is the island temple of Seema Malaka. Starkly contrasting the nearby gaudy and tourist-hogged Gangarama temple, the Seema Malakaya offers a serene and simple respite in the urban mess.
The Seema Malaka is perhaps best known for its minimalist architecture designed by Geoffrey Bawa, Sri Lanka's most famous architect and the much celebrated "father of tropical modernism." Originally, almost 120 years ago, the Seema Malaka formed an integral part of the Gangarama temple where Buddhist monks were ordained. But in the seventies, the Seema Malaka disintegrated and began to sink underwater. The structure was re-constructed in the late seventies and was re-designed by Bawa. The impressive project was funded by S.H. Moosajee, a local Muslim merchant, and his wife, in memory of their son, Ameer S. Moosajee.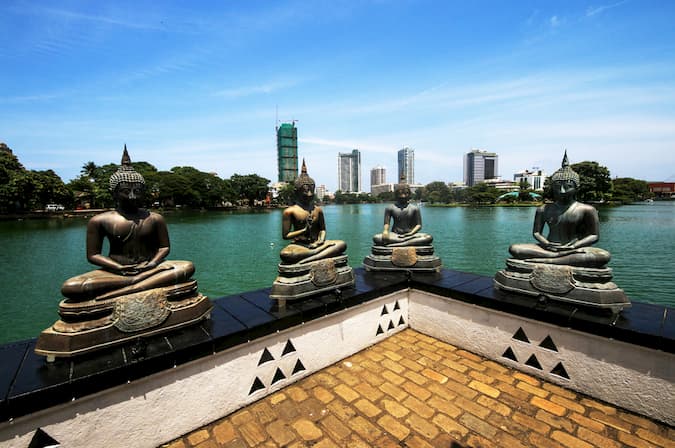 True to Bawa's style, Seema Malakaya offers austere open spaces devoid of flashy festoons. The temple is built on three overwater platforms connected to each other and to the mainland by pontoon boardwalks. Bawa was inspired by the Anuradhapura and Ritigala forest monasteries of ancient Sri Lanka, which were similarly raised over bodies of water. The temple's signature blue-tiled roof, made from collected spindles and banisters with wooden finishes, reflects the architecture of the Kandyan era, the last sovereign kingdom on the island. Each platform has a coral-white enclosure with numerous seated Buddha statues placed on top displaying different 'mudras' (hand gestures).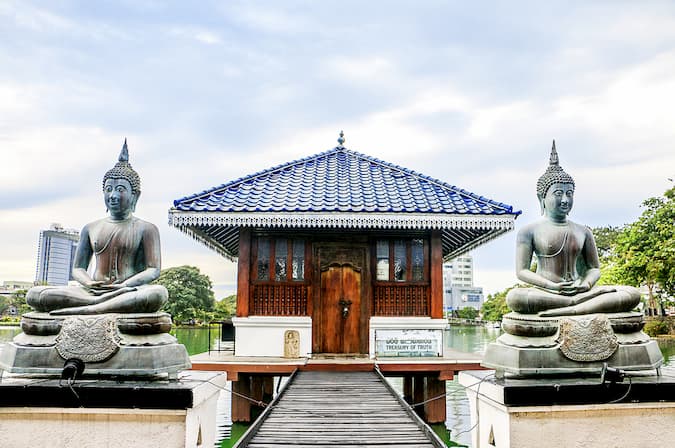 The temple is mainly for meditation and rest, rather than for worshipping. The calming white and grey colors of Bawa's design create the perfect atmosphere for rumination. The central platform holds a lovely, wooden paneled shelter ideal for meditation, or to enjoy the scenic view of the lake. On one side platform is the sacred Bodhi tree, grown from a branch of the Sri Maha Bodhi Tree in Anuradhapura, which in turn was grown from a branch of the papal tree under which the Buddha attained Enlightenment. The Bodhi tree is surrounded by more seated Buddha statues and is adorned with colorful, triangular flags with wishes written on them by devotees to ward evil off their children and loved ones. On the other platform is the "Treasury of Truth," a library of important Buddhist texts accessible only to ordained monks.
The four corners of the temple also have shrines dedicated to Hindu gods, like Shiva or Ganesh. Many locals come here to venerate the Bodhi tree and to make offerings to the Hindu gods. The Seema Malaka, like all Buddhist temples in Sri Lanka, are open to people of all faiths. No entrance fee is charged.
Seema Malaka Buddhist Temple
Sir James Pieris Mawatha,
Colombo 00200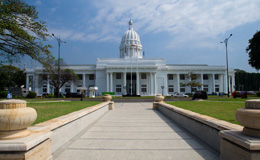 Colombo 07 or Cinnamon Gardens as it is also known is one of Colombo's plushest residential areas. The area gets its name from the large Cinnamon plantations that were in existence during the 18th century.
More..