Muslims in Colombo
Overview
Muslims first arrived in Sri Lanka as Arab traders and merchants and having since made Sri Lanka their home, form a vital aspect in Sri Lankan culture today.
Muslims in Sri Lanka predominantly follow the Islamic faith celebrating festivals such as Ramadan and Haj.
Areas such as Slave Island, Maradana, Maligawatte, Grandpass and Hulftsdorp in the Colombo Central areas are places where Muslim communities have gathered and they are still very much involved in business and trading. In fact many of the shops down Pettah as well as the hardware electrical item stores around Colombo 12 are owned by them.
Some of the more popular Mosques in Colombo include the Dewatagaha Mosque in Colombo 7, Jumma Mosque in Maradana, Madampitiya Mosque and the iconic white and red candy striped Jami UI Alfar Mosque in Pettah.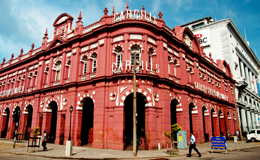 Renowned for its open air bazaars and markets, Pettah is by far Sri Lanka's busiest commercial area. It is where most of Sri Lanka's trading is done.
More..