Tranquil Ultra Lounge
Overview
Located in the ever busy Dharmapala Mawatha, in Colombo 7, the Tranquil Tea Lounge offers a much needed calmness to anybody who has had a tiresome day. The modern interior, lounging sofas and the outdoor area where the sunlight creeps through the foliage around add a beautiful tranquillity to this tea lounge.
The seating areas both indoors and outdoors are spacious and comfortable. You can just sit back enjoy the calming respite it gives you amidst your hectic schedules while sipping away your favourite flavour of tea. The major feature of this tea lounge is their signature teas and other beverages based on tea. The tea lounge is managed by a company that exports Ceylon tea, so you can look forward to have a superb cup of tea if you stop by Tranquil.
They have the pure Ceylon tea in several options such as the Dimbula tea, Uva tea, Ruhuna tea etc which vary in taste as they are grown in different parts of Sri Lanka. Tranquil Ultra Lounge offers many other beverages including tea blends, tea lattes, green tea, a range of wellness teas made with natural clove, cardamom and cinnamon and other herbal teas which are ideal for people with diabetes and for those who have conditions like high blood pressure and high cholesterol levels. Their black tea range has an array of flavours that include strawberry, peach, Earl Grey etc.
Tranquil Ultra Lounge
The star among all their tea beverages and flavours is their signature tea that is on the menu. We are so used to the dark scarlet coloured tea or the champagne coloured tea we usually drink. When their signature tea is served you are instantly mesmerised with the colour of the beverage. It is a hue of violet that you will see when you pour the freshly brewed tea. The glass teapot heated on top of a miniature candle is a pleasant sight and the taste is very mellow as well. The attractive colour is created by infusing butterfly pea flowers also known as Katarolu among the locals, with premium Ceylon tea. The flowers are used as herbs and it is said the flowers contain medicinal properties to boost memory and cognitive function.
Tranquil also offers salads, sandwiches, burgers, pasta, seafood dishes and a few Sri Lankan dishes like the steam or saffron rice that come with the Jaffna prawn curry, onion salad and papadom. We tried the light chicken salad which was a low calorie option and it was fresh and the portions are satisfactory too. The lagoon prawn toastie was yummy and filling. It comes with a generous helping of fries and a tossed vegetable salad. All in all the food is fresh and delicious and nothing to complain about. Tranquil tea lounge also offer shisha in the outdoors area.
Tranquil Ultra Lounge is a good choice if you want to relax and have a pleasant meal in the metropolis of Colombo.
More Info
Venue Details & Map
Tranquil Ultra Lounge
85B, Dharamapala Mawatha, Colombo 07
Tel: +94 11 2 302003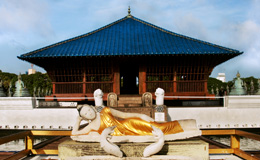 In the middle of chaotic greater Colombo, on the emerald waters of the Beira Lake, is the island temple of Seema Malaka.
More..