Arcade Independence Square
Overview
Arcade-Independence Square is located in Colombo 7 and is part of the process of beautifying Colombo. There have been a number of such refurbishments, thus introducing Sri Lanka, especially Colombo, to a culture that is still new to the country. The buildings that were once the Auditor General's Office have now been transformed into one the best places to relax, shop and dine in Colombo.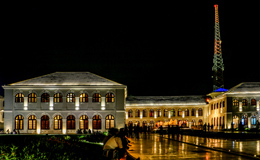 The Arcade is, without doubt, beautiful. There is ample parking although the parking lots tend to get filled up quickly, especially during the night. The lion sculpture is nicely done and so is the aquarium. The plants and pathways add to the beauty of Arcade and it is what makes the place much more than a place for shopping.
If you are interested in shopping at Arcade you have a number of options including Levi's, Abans, Stone 'n' String and Kookaburra. Arcade is home to many clothing, jewelry and electronic stores and there is something for everyone. At Glamorous Sri Lanka, one can purchase many Sri Lankan products like tea, gems and handicrafts.
The t-Lounge by Dilmah, Toby's Estate, PaanPaan are some of the outlets where one can enjoy a cup of tea or coffee at Arcade. Other outlets for dining at Arcade include Elephant House, Sen-Saal, Krishna, Tsukiji Uoichi and Kaema Sutra. If you don't fancy dining at a restaurant, the food court offers many options and you can enjoy a meal seated on the many benches and seating areas that aren't too difficult to find.
Arcade- Independence Square also has the Ceylon Theatre's Empire Cineplex for entertainment and adds to the number of ways one can enjoy their experience at Arcade.
Some may not like the concept of the Arcade, where you have to walk from one building to the other and there are many stairs to climb. Part of the experience offered by the Arcade is discovering stores and restaurants at the many nooks and crannies of the buildings, which are nicely lighted and decorated. The atmosphere of the place is such that you won't feel exhausted discovering the various stores and restaurants in the buildings, and at the entrance of each building is a map, so looking for specific stores is not difficult.
Arcade- Independence Square is a great place to spend time alone, reading or people-watching or with friends and even with family. Security of the place is high and parents need not have to worry too much when taking small children to Arcade, especially in the night. It is during this time that the Arcade is most beautiful, with the lights, ringing voices of other visitors and the cool breeze. Whether during night or day, the Arcade expertly transports one to a different place and time, and it is a must visit place in Colombo.
More Info
Facilities
Parking
Restaurants
Venue Details & Map
Arcade Independence Square
Kurunduwatta, Colombo 07
info@arcadeindependencesquare.com
www.arcadeindependencesquare.com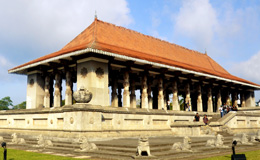 This imposing building is situated at the heart of Cinnamon Gardens, Sri Lanka's ritziest neighborhood. Nowadays, the Independence Memorial Hall is mostly popular as a recreational venue for joggers, strolling couples, students from the nearby university and families looking for a refreshing reprieve from the urban mess of Colombo.
More..