R. Premadasa International Cricket Stadium
Overview
Sri Lankan cricket fans will forever remember R. Premadasa International Cricket Stadium as the venue where Sri Lanka declared a fantastic 952 for 6 test total against India in 1997-98, the highest test total in history of cricket. During the game, former Sri Lanka captain Sanath Jayasuriya and Roshan Mahanama together scored a whopping 576 for the second wicket setting a world record as the pair with the highest partnership in test cricket. Couple of years later, the stadium became the first in Sri Lanka and the fourth in the world to have hosted 100 ODI (One Day International) games. Since then, the venue has hosted 27 more ODIs.
Nowadays simply known as the Premadasa stadium or the Premadasa cricket grounds, the venue is located in Maligawatta, about three kilometers north-east from the Colombo Fort. Maligawatta is mostly a nondescript area without major tourist congregations (except for cricket, of course). Sometimes the Premadasa stadium is still called by its former name, Khettarama stadium, after the nearby Khettarama temple. The stadium is named after Ranasinghe Premadasa, the third president of Sri Lanka, who wanted to build the largest cricket stadium in the country, complete with world-class amenities. Originally a 14,000-seater concrete bowl, the stadium was built by sand-filling a swamp used by monks to ferry across to the Khettarama temple. It was inaugurated on February 2, 1986, with a limited-overs match between a Sri Lanka 'B' team and an England 'B' team.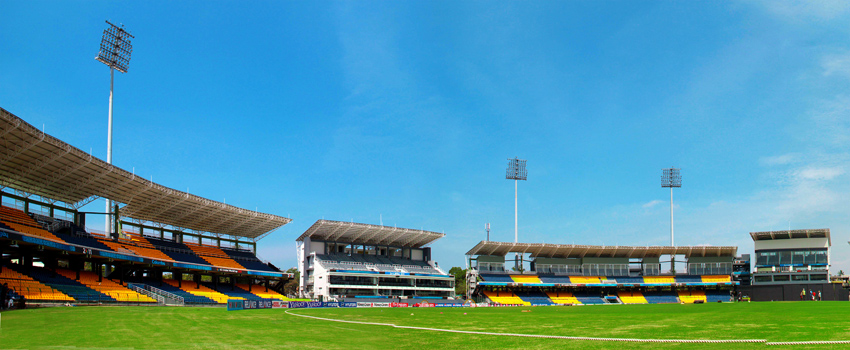 In 2009, the stadium underwent large-scale renovations worth some eight million rupees for the 2011 ICC Cricket World Cup. The seating capacity was increased to 35,000 and the media box was upgraded to accommodate 200 journalists. New seats were rearranged too, in lovely rows of blue and yellow, representing the colors of the Sri Lankan national team.
During games, large crowds of local fans fill up the lower seats who'll scream and cheer without any extortions to "make some noise." The best seats available are in the Grandstand, which are less congested and offer a great view of the giant scoreboard. There are plenty of food stalls at the stadium, including KFC, Pizza Hut, Lays potato chips, as well as local vendors selling hot dogs, pineapple, chocolates and many other snacks. Some food stalls bring customer orders right to the seats for a small delivery charge.
R. Premadasa International Cricket Stadium
Khettarama Road,
Maligawatta,
Colombo.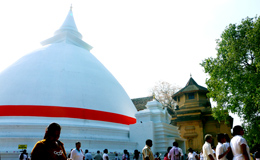 Situated 10km away from the heart of Colombo is the Kelaniya Rajamaha Viharaya. The ancient chronicle 'Mahavamsa' states that on the eighth year following enlightenment; the Buddha visited Kelaniya with 500 Bikkhus (Monks) on the invitation of King Maniakkhikha to preach the dhamma.
More..