The Mel's Tea Cafe
Overview
The family managed cafe is hidden in a nook in Borella, amidst the hustle and bustle of the busy city. You would instantly feel as if you entered an up country when you step into the cafe. It has seating in a spacious garden area surrounded with lush foliage and the interior is also available if you prefer indoors. But who would say no to enjoy a freshly brewed perfect cup of tea in the tranquil garden environment buried in your own thoughts.
Mel's Tea Cafe has certainly got their basics in place. The perfect and peaceful location, the friendly and chatty staff and the excellent tea and tea based beverages, all add to the reasons as to why you should visit Mel's Tea Cafe one more time. The cafe situated along Cotta Road, Borella, is easy to find. You would feel more than welcome as the owner of the tea cafe would personally come and look into to your order and would even suggest choices of tea. He has been working in the Sri Lankan tea industry for many years and he is even chatty and friendly enough to give you tips about how to brew the perfect cup of tea.
The cafe is open for breakfast, lunch and snacks and the cafe also hosts a high tea. Adorned with artwork that depict the Ceylon tea industry, the interior of the restaurant is roomy and it is an ideal place to enjoy breakfast whether you prefer to have it in the western style or the Sri Lankan style. The typical Sri Lankan breakfast items such as pol roti, milk rice with lunu miris, or roast paan with pol sambol and dahl are available while items such as French toast, pastries, nutella spread pancakes, sandwiches and waffles are on the menu for breakfast and snacks.
Their specialty and the signature tea is the silver tips tea which comes in rings. Produced from rare and delicate tea leaves, a pot of their signature silver tips tea is specially brewed by the owner himself and it is reasonably priced as well. The light and champagne coloured tea will surely lift your spirits with its subtle taste and aroma.
There are also iced teas, tea shakes, mocktails and other tea based drinks. The cinnamon tea shake we tried was not too frothy and it's not very sweet and it is not overly bent on the cinnamon flavour which can be good or bad depending on your mood for cinnamon. The sandwiches are freshly made and delicious, but if you opt for a healthier option there are fresh salads such as shrimp salad, waldorf salad etc. They also offer a range of sweet items such as éclairs, cream puffs and cakes. So you can accompany the freshly baked sweet items with an iced tea or a hot cup of flavoured tea or premium Ceylon tea.
All in all it is a great place to hang out given the peaceful atmosphere and the items are reasonably priced. Also the friendly service will definitely induce you to visit this cosy tea cafe.
More Info
Venue Details & Map
The Mel's Tea Cafe
98/1, Dr N M Perera Mawatha (Cotta Road), Colombo 08
Tel: +9411 267 8898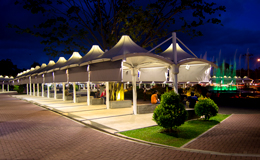 The busy and crowded capital city of Colombo doesn't have many spaces to relax and enjoy the outdoors unless you go to a club such as the Golf club or the Rowing club for which you would usually need membership.
More..